I opened my email this morning and found this from Trish over at
Trish Perry's blog
:
"Congratulations! You won today's drawing on my site for the signed copy of Mary Connealy's novel,
Sharpshooter in Petticoats
."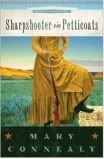 Woo hooo!
Mary Connealy
happens to be one of my favorite authors. Her books are so cute and comical. I cant wait to read this one!
Thanks
Trish
!
If you like Christian Fiction visit Trish's site. She is not only an author herself, but she does interviews with other authors and gives away one of the authors books with each interview. Check it out.