I am so stinkin excited about this project! So, I had my husband hang some pegboard for me in my laundry room because I wanted a place to hang my wrapping paper and supplies.
Now, I HATE painting, but love what paint can do. Still, I soooo did not want to paint! Not wanting to have the ugly look of pegboard either I thought and thought of what I should do. I first thought of breakin' out the Mod Podge and fabric, then I came across this in my Ballard Designs Magazine.
I thought... YES! I can make my pegboard look like that! Its not a corkboard but its the same idea. Though I couldn't find anyone online that had done it, I knew it could be done. I have hot glue, an electric staple gun, and I know I can get those nail heads at Home Depot or Lowes. Plus, everyone seems to be doing something in burlap and I want to join in on the fun. Burlap is cheap and sturdy and... I love it! The weave of burlap is so loose that I wouldn't have to cut holes for the pegs and I could sort of see through it so it was easy to find the peg holes.
Here is what it would have looked like without the burlap and nail heads. Ooooh look! It matches the baskets on the shelf! But oh-so-ugly!
And this is what it looks like with all the paper, bags, etc. all hung up. eeeeee! I LOVE it!
I just walk in there and stare at it. It makes me so happy!
Before
After
The chest freezer underneath makes a perfect place to wrap presents.
I will show you some more details and how-to's in another post.
Update : Here is my post about the
details of making this
.
linking up: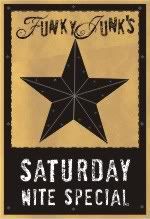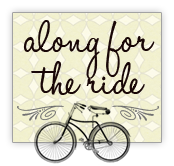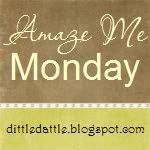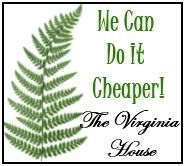 SEW DARN CRAFTY